About the Company
We have developed a specialised niche in the Australian market, drawing on our extensive technical expertise, depth of experience, and wide-ranging industry contacts. This formidable combination ensures we consistently achieve outstanding results at every stage of the project lifecycle - from project management and workforce planning, to onsite construction and maintenance.
Efficient manpower and project scheduling is our forte and our services can be accessed as either an alternative to labour hire or via a quotation-based package.
We offer detailed project planning capabilities, to reduce the time and cost of formwork design, supply and erection, as well as various alternatives for working in and over water, and a full range of lifting solutions for installation of all types of pre-cast beams and panels.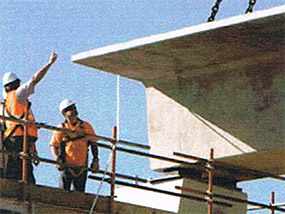 Our services
Management support & consultancy advice
Construction programming
Project structuring and systems
Labour requirements and staffing
Risk and opportunity
Technical Support
Framework design
Lifting and installation
Precast elements (Tee Roff beams, Precast planks and beams, Precast abutment panels and walls, parapets)
Precast elements including prestressed and post-tensioned
Operation & Construction
Supply of experienced staff
Engineers (earthworks and structures)
Supervisers (earthworks and structures)
Supply of formwork, reinforcement and stressing cables/strand
Contract pricing and full sub-contract execution and management
Project Experience
Bridges (in situ, launch, precast, steel and marine design)
Marine construction (wharves, dolphis, berths and pile caps)
Rail tunnels, foot bridges and decline structures
Piling (land and water, pile driving steel and precast)
Precast concrete elements (panels, walls, deck planks, noise walls and Tee Roff Beams
Contact Us
Phone: (08) 9248 7280
Address: Unit 2/139 Mulgul Road Malaga 6090